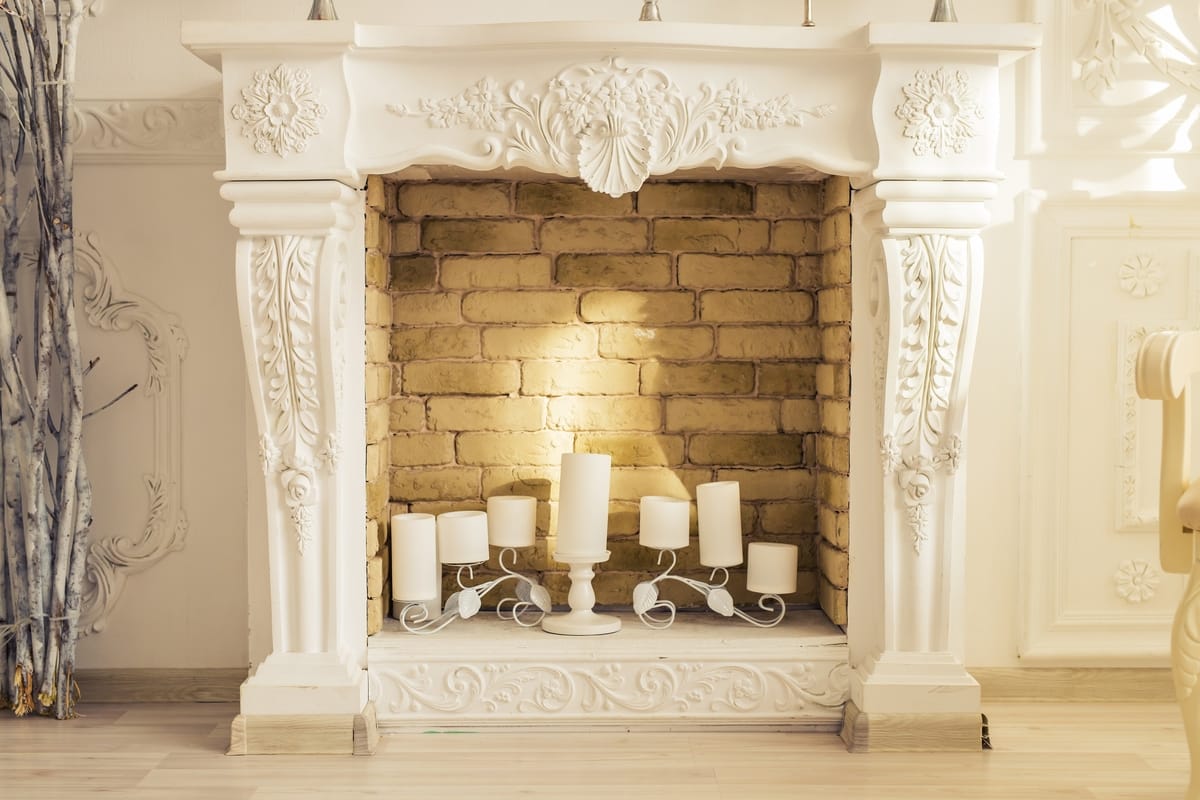 How To Open Up A Fireplace
O pening a fireplace can add character and value to any property. But there are a few things you need to be aware of before you start undertaking any work. Knowing about things like building regulations, costs and troubleshooting before you get started will be handy if you end up with a difficult job.
Opening a fireplace:

Tasks such as installing a new appliance, adding a hearth, as well as structural changes like removing a chimney breast will need to comply with building regulations
Checking, cleaning or replacing lining of a chimney is an essential task
Carrying out a smoke test is also an essential task.
Do you need planning permission to reopen a fireplace?
As long as the building isn't listed you will not need planning permission to reopen the fireplace.
However, if you are installing anything that has the potential to cause fire or toxic fumes it will need to comply with Building Regulations for combustion appliances.
Complying with Building Regulations
There needs to be enough oxygen in a room for both the occupants and the fire. You are required to check existing vents or to add new vents where necessary; although some appliances now come without the need for vents, and in old houses with plenty of drafts, venting may not be necessary. A specialist fireplace installer will be able to advise you about this when you purchase your appliance.
Things to consider when adding an open vent:

Cold air blows through them - ideally they should be as close to the fire as possible.
Noise from people outside your property can filter through an open vent
Depending on closeness to roads, or parked cars. Car fumes will also make their way through the vent.
Vents can be inserted into floorboards so the fire draws air from under the floor, rather than creating a draught under the living room door or window. The most popular place to have vents, mainly because it's the only place they can go in old English houses, is within an outside wall just above the skirting. Redundant flues also need to be ventilated to prevent staining to chimney breasts caused by moist air condensing within the flue.
If a new gas supply is needed, this can be piped to the fireplace under timber floors or via a copper pipe run externally along an outside wall. But, by law this has to be installed by a Gas Safe Registered Engineer.
What are the likely costs involved in opening up a fireplace?
You may be very lucky and find the original fireplace is still there once you uncover it. Worse case scenario, everything has been removed and the fireplace has been capped and bricked up.
As a rough guide, a new flue liner can cost between £150 - £250 depending on the quality and length required.
It can take up to a day to knock out a fireplace, then another day to install lining. The average day rate for a professional to do this is between £150-£250.
Opening the fireplace yourself
There is going to be soot and dust. If you can't remove everything from the room, cover anything you don't want dust to settle on. You will also need to wear a mask and eye covers that do not allow any soot in.
When using machinery to knock bricks out, be nice and let your neighbours know, because it can cause vibrations on the adjoining wall and it will be very noisy.
Once the bricks have been removed from a bricked up fireplace, there will be large deposits of accumulated soot and rubble to be removed before the chimney can be swept and the flue lined.
Most properties built in the 19th and early 20th centuries, will have a load bearing brick arch supported on a curved steel former. You may want to increase the size of the opening, in which case a concrete lintel should be inserted to support the chimney breast.
Once you have a clean opening and freshly swept chimney, do a smoke test. It highlights problems, such as smoke escaping into your building or your neighbours home, and whether the smoke exiting the chimney top is blowing up and away from the roof.
The next job is to upgrade/replace the hearth, traditionally made from concrete set flush into the floor void. To comply with Building Regulations this will need to be raised above floor level, you can form a new one directly on top of the old one with concrete. Marble, tiles and slate heaths are quite popular.
The fire surround should stand on top of the hearth, it will need to be screwed to the wall. Traditional Victorian cast iron inserts, can be positioned centrally, and secured behind the insert with concrete. All manufacturers supply fitting instructions with their appliances, read these instructions carefully when fitting yourself.
Alternatively, it might be simpler to install a freestanding appliance designed to operate via a flue driven through an outside wall.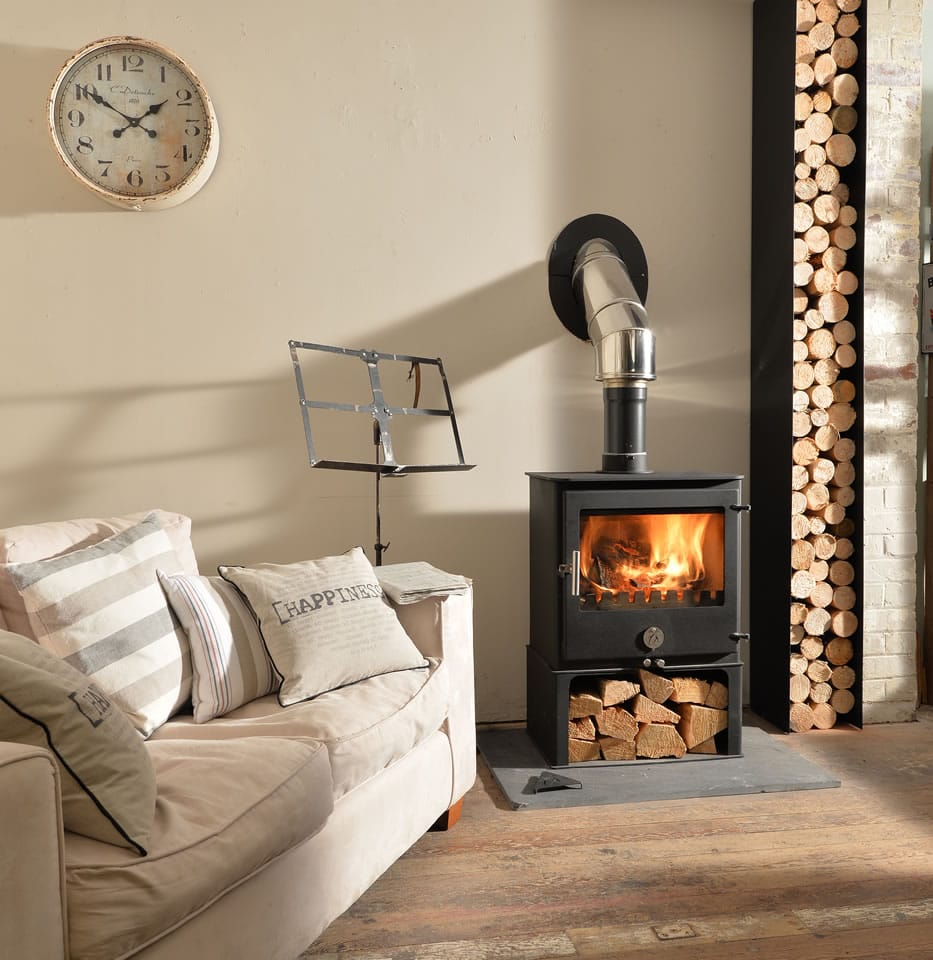 Which style of fireplace is best?
The style you choose depends on what you are trying to achieve. Do you want to match the period the property was built in, are you going retro, contemporary or completely modern. Once you know the style you like, your local fireplace showroom will be able to help you choose the right fire.
Flue liner?
Flues are designed to safely disperse smoke and gases created by your fire. Before a fire can be used, a flue should be lined.
Lining typically involves inserting a flexible steel tube down the top of your chimney, if you don't have a head for heights then leave this to the professionals. Novices would be better advised to use scaffolding then climbing ladders to get to the top of the chimney. The type and diameter of the flue liner, the cowl or terminal, are specific to the appliance you will be fitting. Check the manufacturer instructions before you purchase the flue liner.
Troubleshooting when opening up a fireplace:
Damp patches and/or staining can be caused by leaks at the roof flashings, rainwater coming down the chimney, and condensation.
To stop rain coming down the chimney, use cowls, and hoods to protect pots and flues. Even when a fireplace has been made redundant and sealed up, it will still need airflow to prevent condensation. Airbricks need to be inserted in the stack wall, this is why you often see vents in boarded up fireplaces.
Where damp is seeping down through porous chimney masonry, re-pointing the brickwork joints can solve the problem. Newer larger flashings can also be fitted that extend higher up and deeper into the brickwork.
Burning fuel produces water vapour which will create moisture when it hits cold surfaces. Your fuel source, such as timber, can be wet and can create a lot of water vapour. Once soot and moisture mix they can bleed through the plasterwork leaving ugly stains. Condensation inside the chimney stack can usually be resolved by installing a suitable flue liner.
Smoke is flowing into the room and/or the fire is struggling to burn are caused by incorrectly fitted or the wrong sized flue, cold stack, blockages, weather, and trees.
Occasionally a chimney is just too cold to draw well, particularly those on outside walls.
A temporary change in air pressure can cause the smoke to cool too quickly and ends up being drawn down with the colder air.
A stack that is too short or overshadowed by high buildings or trees can result in an internal and external downdraught where the smoke blows back down the chimney, or down the side of the building into windows.
Flues that are too large can cause smokiness because it takes them too long to warm up, and smoke needs to be hot to rise.
Flues that are too small can choke the fire.
A lack of airflow around a room can cause a smoky fire. This can be a particular problem in houses where holes creating draughts have been sealed up.
Dealing with the above mentioned problems:
Not enough air: boost air supply by installing closable vents in walls or an under floor grille near the fire
Large flue: Modify with a suitable flue liner, a throat restrictor can also be fitted to narrow the entry zone from the fireplace.
Smoke dispersal: Line the chimney to allow for more efficient dispersal of smoke.
Blockages: Sweep the chimney
Downdraughts: a special draught inducing cowl or circular deflector can be fitted, or the height of the flue raised with a pot extender.
How to prevent chimney fires
Over time soot and tar build up inside flues and can ignite causing fires. Flues need to be swept annually to remove combustible soot deposits and blockages. Choose a sweeper who is a member of NACS, APICS or Guild of Master Sweeps.

0 Comments
Comments have been switched off for this post!