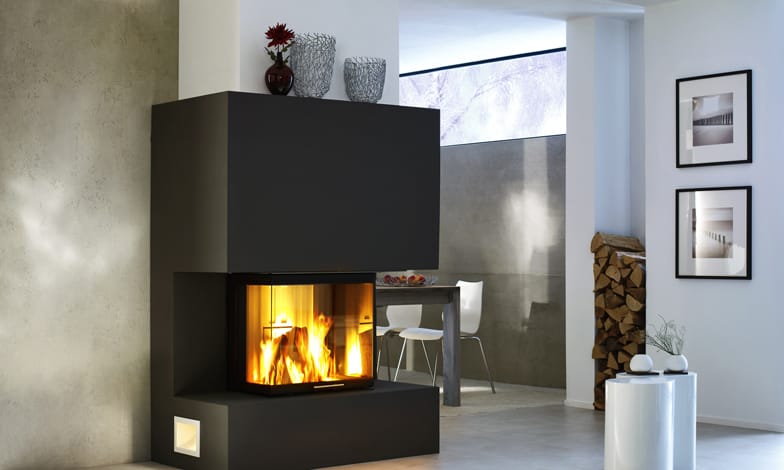 Choosing The Right Fireplace To Match Your Lifestyle And Decor
M ost of us love a roaring fire to sit in front of on cold nights with family, friends or for a romantic liaison. The warmth, glow and scent of burning wood adds a cosy safe ambiance to any room.
It is not just old properties that have chimneys but some new house designs still include chimneys to accommodate homeowners desires for open fires. Although chimneys aren't necessary for some stoves, as it is now possible to install a wood or multi fuel stove in any room in your home as long as it has an external wall for the flue to go through.
Whether you are looking for modern clean lines, the rustic farmhouse feel, traditional or contemporary, Phoenix Fireplaces will have the right fire to fit your budget. We can give you advice about what will suit your home and what will fit into your room to give off the right heat level.
You will want a fireplace where you and your family and friends can comfortably gather around, providing heat and light and a look that enhances your room. That is why it is so important to have the right fireplace design for your home. Getting it right means you'll have a well used fire, getting it wrong means you'll have an eye sore or underutilised appliance. Fireplace ideas vary, but it doesn't matter what your preferred style is, there will be a fireplace that suits you. We can help you narrow down your choices when we know what heating functionality you require and the other aesthetics of the fireplace in your room.
Firstly you'll need to decide what type of fireplace is right for you and your family. Will it be used as the primary source of heat, back up to your central heating for those particularly cold days, or simply used for decorative purposes. This will help you decide if you need an electric, gas or wood fire.
Gas fires used to require ventilation, often in the UK ventilation bricks were placed in walls that were no where near the fireplace, but within an external wall where it was the only option to have your sofa, which meant there was always a cold draft near your ankles or neck. You now have choices when it comes to venting, from inserts, direct-vent and vent-free models.
Then there is the wood-burner which can be placed in any room as long as a flue can be fed to an outside wall, the flue now being part of a buildings decor. Some construction work is needed to make a hole in the wall for the flue.
Electric fireplaces usually come straight out of a box, so you don't need to do any construction work, you just need to know your chimneys dimensions. They are typically smaller than gas fires so are perfect for smaller rooms. Of course if you want limestone, marble, slate or ceramic tiles around your fireplace then some messy DIY work will be needed.
If you have decided on a theme for your room, look for a fireplace with complimentary colours and textures like stone, brick, tile and wood. If you choose a mantle, you can match this to your rooms decor. Add mirrors, statues, flowers or artwork to your mantle to complement your theme.
We have gas, electric, wood burners and multi fuel options, we can undertake the construction work needed to install a fireplace, we also have the necessary accessories to go with your new appliance. Why not take a look around our website or visit us in Hawk Hill, Battlesbridge, Essex, SS11 7RJ, where you can view a number of fires on display and feel the heat they generate.
0 Comments
Comments have been switched off for this post!