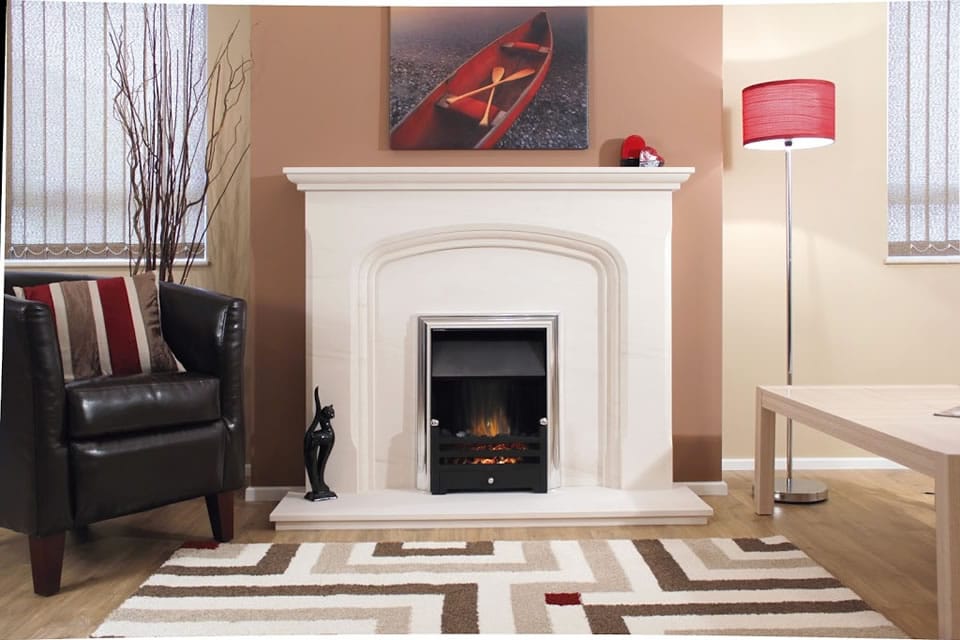 10 Reasons to Buy an Electric Fireplace This Winter
I f you are looking for the warmth and ambience a fire brings to your home, but don't want the hassle of throwing some wood on the fire, cleaning out ash pans and getting your chimney swept once a year, then an electric fireplace could be right for you.
Here are 10 reasons certain people like electric fireplaces over gas or wood burning stoves.
1. No Worries About Carbon Monoxide.
Whenever gas is used in a home it is always best to have a carbon monoxide detector to avoid poisoning if on the rare occasion your gas appliance becomes faulty. Carbon monoxide is odourless and can cause serious health issues or death.
Electric fireplaces have zero emissions giving you one less thing to worry about.
2. Energy Efficient.
Gas fires and wood burners release some heat through your chimney. Ventilation for your gas fire is also a source of cool air blowing into your room. It is always best to have ventilation next to the fire, but in British homes where the chimney is often in the centre of the house this is not possible. So we often end up with a draft around our necks or ankles.
With an electric fireplace you do not require ventilation, and if you have a chimney you can have it blocked so no heat escapes through it. This can make heating a room more efficient as you aren't fighting additional cold sources that you can't close or block.
3. Low Maintenance.
An electric fire can look and feel just like a real fire, but without the mess and hassle of cleaning it. There is no soot or tar build up in the chimney that will require a yearly sweep. There is no ash pan that you will need to empty, you don't have to order, store or put wood into your fire.
With an electric fireplace you can sit back, put your feet up and use a remote controller to get it going or turn it off.
4. Cost.
A gas fire should be installed by a qualified person, or signed off by someone who can connect gas to an appliance, which will increase the cost of your gas fire installation. You also have maintenance fees for Chimney sweeping and having the appliance serviced every year to ensure it is safe.
Electric fires can be purchased from DIY stores for as little as £100, all you have to do is plug them into the mains when you get home, and there are no on going servicing fees.
5. Anyone Can Enjoy An Electric Fireplace.
Electric fires do not require a chimney or flue, this means you can have one in any living space you choose. They come in handy if you rent a property that doesn't already have a fire in place and wish to enjoy the ambience a fire brings to a room.
6. Lifespan
Electric fireplaces have the longest lifespan out of its wood burning and gas burning counterparts. Because electric fireplaces are not a combustible energy resource, electric fireplaces are not susceptible to rust or corrosion. Whereas wood and gas burning fireplaces start to show signs of usage from day one, electric fires can look as good as new for a couple of years.
7. Installation
Electric fireplaces can be easy to install if you go for an off the shelf type that plugs into your mains. However, if you want a masterpiece that creates the wow factor than you'll still have to go down the route of having a professional installer do the work for you. With wood burners and gas you don't have any options other than to have a professional install the unit or have a registered gas fitter attach the gas mains.
8. Options Are Abundant With Electric Fireplaces.
Choosing an electric fire doesn't mean you get stuck with a boring looking unit. They now come in a plethora of styles and options. You can get styles in traditional, contemporary and modern to match any style or decor your house may have. They can still have beautiful mantels and media consoles, allowing for extra storage in a stylish way. And of course there is the electric fireplace inserts that can be installed into already existing fireplace. You also have a choice of wall mounted, corner and compact units to choose from.
9. Safety
Some fireplaces now come with an automatic shut off timer function. If you like falling to sleep in front of a roaring fire, then set the timer to shut the fire off after 15 minutes. The shut off timer function reduces the risk of fires resulting from overheating.
Electric fireplaces remain cool to the touch, therefore reducing the risk of injuries and burns, making them safer for kids and pets.
10. Electric Fireplaces Can Be Used All Year In All Climates.
Electric fireplaces allow you to enjoy the look of a real flame without emitting any heat. On a late summer night you can have a beautiful glow coming from your fireplace without it adding additional heat to your room.
0 Comments
Comments have been switched off for this post!