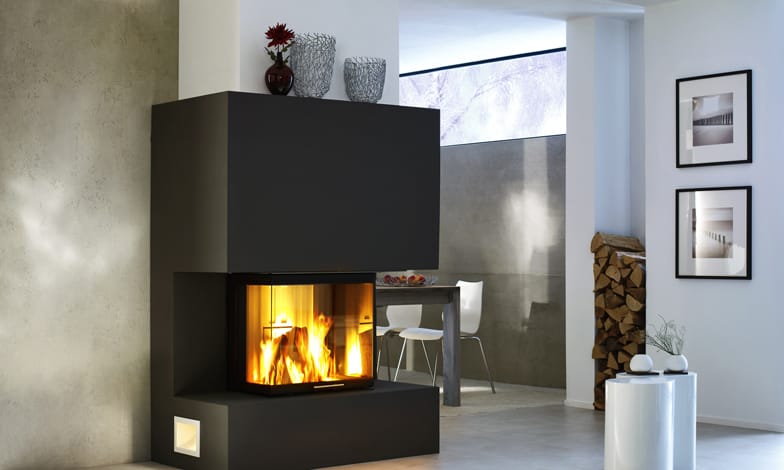 Pros and Cons of Wood Heating Systems
W ood Heating Systems
Wood heating systems burn organic materials, such as, wood logs, pellets or chips, within a stove or boiler to provide heat and hot water to a home. Technically, a wood heating system is known as a biomass system.
A wood burning stove is generally used as a standalone room heater for one room.
Stoves can be connected to a boiler, called a boiler stove or back boiler providing heat and hot water to the entire house.
If you are thinking about getting a stove, it is worth having a read of our advise below to help you understand the costs involved for installation and yearly fuel consumption. Or visit our stoves showroom in Battlesbridge Essex and we can answer any questions you may have about stoves and biomass system, and what would work best in your home.
How biomass boilers work:
Stoves can be connected to a regular boiler, such as your typical gas boiler found in residential homes, or to a biomass boiler.
Biomass boilers, like stoves, burn wood to generate heat, and can be used with a stove or on their own.
They are good for houses not connected to mains gas, which are typically found in rural areas.
You can use a thermal tank to link up a range of heating systems, such as solar panels, a gas boiler or a wood burning stove. A thermal tank (also known as a buffer tank or accumulator) helps regulate the fluctuating use of the different energy sources enabling you to use solar panels in the summer, and a wood burning stove in the winter.
Pros of Wood Heating
Biomass materials are considered a carbon-neutral source of energy.
The Stove Industry Alliance (SIA) estimates that wood logs produce 0.008kg of CO2 per kWh, compared to 0.198kg for gas and 0.517kg for electricity.
Wood is considered carbon neutral as it expels as much CO2 as it consumes when growing.
Stoves are more efficient than many other types of standalone room heaters. According to the SIA, an open fire has the efficiency of around 32%, and a gas fire in the region of 55%. However, Stoves have efficiency ratings of between 60% to 80%.
It is feared that traditional fuels, such as gas and electricity have a global demand that could be greater than supply which will lead to higher prices. Moving to a biomass system now will reduce your dependency on the more traditional methods.
You can also save money if your room thermostat is in the same room as the stove, as the stove will heat the room quickly leading to your central heating going off sooner. This can also be a problem if you want your central heating to stay on to heat other rooms around your home.
Cons of Wood Heating
The cost of installing a whole biomass system, the stove and a boiler could be more than £15,000.
The initial cost of a wood heating system can be very high, you'll be looking at £1,000 to £3,000 for a simple log stove installation, and £5,000 to £11,500 for a wood pellet boiler and installation. See our article about Stove Costs and Savings for further details.
Most households are use to having their energy supplied directly to their home. However, if you choose a biomass system or stove, you will need to buy your fuel, arrange for delivery and have somewhere to store that fuel. You will also need to know how much you are likely to use and when, enabling you to make orders appropriately. Delivery costs of your fuel depend on how far the supplier has to travel and whether it is an emergency delivery. The larger the quantity ordered, the cheaper the fuel.
Although biomass heating is suitable for any type of building, you will need space to store the fuel and to access the system for loading.
You also need to take into consideration the building regulation that affect where a stove can be placed and if any work needs to be done to the chimney or surrounding area. These will impact on the installation costs.
A reputable installer such as Phoenix Fireplace will be able to help you make a decision about the type of heating system best suited to your home and the likely costs.
You can also cut the cost of heating your home by buying a lower wattage stove, have loft or wall insulation, and/or changing old windows for double glazing.
Renewable Heat Incentive
The Renewable Heat Incentive was launched in spring 2014, and will be changing in March 2016. It will pay you to produce heat from biomass boilers, solar thermal panels, ground source and air source heat pumps. You can find out more at the Energy Saving Trust website.
0 Comments
Comments have been switched off for this post!