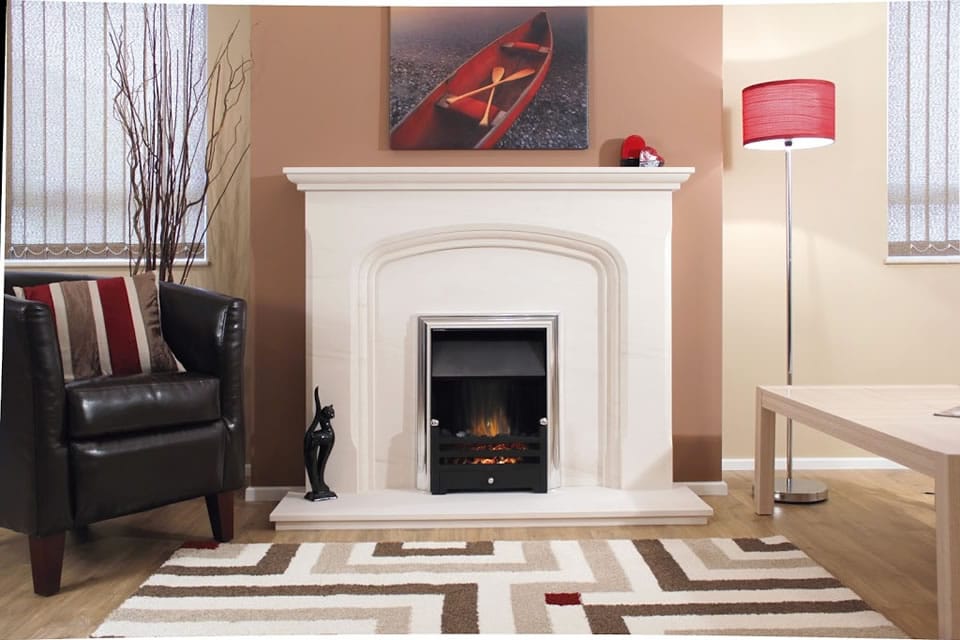 Choosing a Fire Surround
I f you are finding it hard to make a choice about the surround you want because of the over whelming choice online and in store, or you want more details about the styles that will suit your home then we hope we can assist you.
You may have found a photo of the right fire but not with the right surround. In this case you need to have a chat with the retailer as the fires and surrounds usually come as separates so you can mix and match.
Choosing a fire surround
Choosing the right surround requires some consideration, your personal style, your house type and room size. Here at Phoenix Fireplaces we can give you advice about room size and the style of fire and the surround that will match the era of your home.
Choosing Materials and Styles
There are lots of options for the type of material a surround is made from such as, wood, bricks, iron, stainless steel, granite, marble, stone and ceramic tiles. Below we give a bit more information about each type.
Wood
You can have a reclaimed oak beam that will have character from it's life time of knocks, or new perfectly cut wood that will give you clean lines. Then you have the option to leave it natural, oil, varnish or paint it making wood very versatile.
Bricks
Bricks is another material that can give plenty of character to a room, especially when you use reclaimed or the new ornamental style bricks.
Old cottages and barn conversions often suit wood and brick surrounds.
Stone & Rocks
Stone or rocks can be used to make a huge impact on an already impressive room. Both can be carved to make a traditional fireplace for any home. But stone always looks impressive the more of it you use, creating a beautiful feature within your home.
Stone works well in manor houses, cottages and in modern builds.
Marble, Brick & Wood
If you have a modern or contemporary style to your home then marble, brick and wood are good choices. For ultra-modern schemes you may wish to go for a double-sided fireplace.
How to pick a surround for a period house
Period houses or period-style properties look best if you are sympathetic to that era of design. There is a choice between originals and reproduction, Phoenix Fireplaces has original fireplaces and surrounds that we bring back to life, as well as thousands of reproductions and new fireplaces. Please do not hesitate to give us a call if you want more information about the antique fireplaces we have.
Firstly you need to know what period your house was built in, once you have that information to hand, the information below should help you look for the correct type of fireplace and surround.
Georgian & Regency 1714 - 1837
Fireplaces from this period were of grand proportions and would be the main focal point in a room. The creation of large openings using solid wood surrounds or marble fireplaces with cast iron grates and grand fire baskets fed this fireplaces magnificent size. The typical Georgian fire surround or cast iron grate would have hand carved (or case iron) medallions, urns or swag features.
Victorian 1837 - 1901
The early and mid Victorian fireplaces are very ornate with intricate designs focusing on floral casting. Towards the mid to late Victorian period the style moved towards geometric designs with cleaner, simpler looks, as well as marble and wood being the norm for the surrounds.
Art Nouveau 1890 - 1905
Art Nouveau was very organic in design using more floral and plant inspired motifs, as well as stylised flowing curving forms.
Edwardian 1900 - 1920
Edwardian style fireplaces were typically made from cast iron and became taller and slimmer, whereas the decorations became simpler and less complex. The cast iron inserts with tiles became less popular in the early Edwardian period, and were replaced with canopies on legs with large angled panels either side covering the space between the canopy and the fireplace surround.
By the mid Edwardian period, cast iron combination fireplaces with tiles became popular, similar to tiled cast inserts seen in the Victorian period but with simpler designs and a surround included in the cast.
Large surrounds also became a popular fashion, particularly wooden surrounds that incorporated large mirrors.
How to pick the appropriate size surround

Chimney opening size = fire appliance size
Room size = Fire appliance heat output
Now you can buy your appliance which will give you the measurements you'll need for your surround. Most manufacturers produce fire surrounds with widths between 55.5 - 61 inches and heights of around 42-52 inches. However, you can approach a bespoke service who will make a surround to your requirements.
We can visit your home to complete a site survey and do all the measurements for you when you decide to buy your appliance and surround from Phoenix Fireplaces.
How to look after your fire surround
Maintenance of your surround will ensure it has a longer life.
Marble Surrounds
All you need to do is wash the surface with soapy water and finish with a wax polish which will keep the marble in good condition.
Brick, slate and granite surrounds
The majority of the time they can be brushed to remove the dirt. But if the surface does start to get marked, then a caustic cleaner can be used on brick, whereas liquid detergent should be used for slate and granite.
Ceramic and tiled surrounds
Simply wash with hot water and diluted household cleaner.
Cast Iron
This can be cleaned with water and diluted household cleaner. The cast iron can be brought back to life using a heatproof matt black paint.
Sandstone and limestone
These ones are tricky as they absorb stains easily, it is always best to consult with the manufacturer, but you can find some pH-neutral stone cleaners on the market.
Wood
Waxed wood - you will need to soak the wax out, then sand it with fine sandpaper before applying new wax.
Oiled - sand with fine sandpaper then apply new oil.
Painted - remove the paint then sand with a fine sandpaper before painting.
How much is a surround going to cost
Wood is probably going to be the cheapest option. Prices vary from £200 - £800 depending on size, detail, decorations and the manufacturer.
Tiles can also be another cheap options as you can add these yourself.
Stone and marble surrounds can be bought from around £400 but can go into the thousands.
Cast iron can cost between £450 to £2,000. Original's, such as Victorian antiques will be at the higher end of that bracket.
We hope you found this blog helpful, if you have further questions please do not hesitate to email, phone or pop into our showroom in Battlesbridge.
0 Comments
Comments have been switched off for this post!